ARTIST STATEMENT
In 2015 I ceased producing expressionist landscapes and allowed my architectural photos to inform my work, focusing on minimal details and the balance of line, form, and color.
As the work progressed, I became interested in working with geometric shapes. Desiring greater simplicity, I work with a limited palette.
I begin with drawings editing until I feel the composition will make a painting that is interesting, calming and hopefully elegant. I think of my paintings as meditations.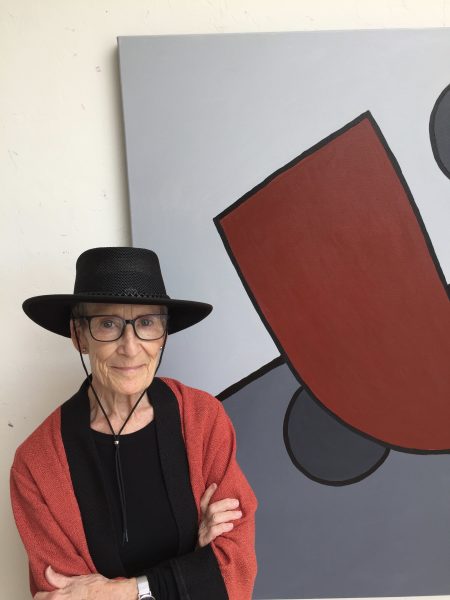 A STATEMENT OF CHANGE
"MY USE OF COLOR HAS CHANGED WITH THIS DESIRE FOR GREATER SIMPLICITY.  I THINK OF MY PAINTINGS AS MEDITATIONS."
Barbara Gurwitz studio
Gurwitzhal@mac.com
Studio:  520-625-4319
Barbara Gurwitz, b. 1942
I have been painting for most of the last 55 years.  
After leaving home at 18, I became a city dweller, painting my way through Boston, New York, California, and Madrid, Spain, Ithaca, Greece, and Provence, France, allowing those places to influence my work in the months and/or years spent in each area.
 In 1960, I moved to Boston. The early work was influenced by 1960's Boston artists and the many impressionist pieces circulating through the Boston Museum, including works by Matisse, Picasso, Francoise Gilot, Modigliani, and most importantly, Van Gogh. At this time, I worked as a figurative artist. This method of work continued with some still life and interior work throughout the 1970's. The years in New York and Spain (1975-79) the figurative work became surrealistic.
In 1979 I moved to Arizona and settled in Tubac for the next 10 years. Upon this change of scenery, I ceased working with acrylic paints and turned back to the use of oil paints, continuing with interiors, still life compositions and figurative work while gradually moving into landscape painting.This evolution continued into the mid 90's when my work was described as 'fauvist, expressionist, magical realism, modernist'. Responding to the landscape of Arizona and especially New Mexico, I found that what resonated for me were the shapes and vibrations of colors. 
My paintings, while interpretive, still held a strong sense of place. I became quite passionate about the villages of New Mexico and Southern Arizona during this time.  The work was the result of frequent travels in the Southwest (and other countries), often relying on photographs taken, being a studio painter. 
In 2015, after 20-25 years painting these places, in many seasons, times of day and varying weather conditions, this long period in my career as an artist had come to an end.
For much of the last 10-15 years an interest in photographing centered on cities:  buildings, cityscapes, architecture and patterns in the United States and on her travels abroad. Other photographic work has been for photography itself.
In 2017 these architectural photos began informing my work: using minimal detail and concentrating on the balance of line, form, and color, I began refining my work, no longer using photographic work but simply working with forms that interest me.
I have lived with my husband of 28 years in Sahuarita, Arizona since 1994
Barbara Gurwitz (b. 1942 USA)
barbaragurwitzartist.com
520-625-4319
Represented By:
Wilde-Meyer Gallery, Scottsdale and Tucson, Arizona, 1991-2019
Joanne Coia Gallery, Delray, Florida, 2001-2010
Alexandra Stevens Gallery, Santa Fe, NM 2007-2012
artezona.com Liz Hernandez hello@artezona.com
Selected Exhibitions
2020
Gallery 2 Sun, Tucson, New Works, Tucson, AZ
Contemporary Art Society Juried Exhibition, Tucson, AZ
2019
Solo Exhibit, Line, Form, & Color, 1Art Galleries, Tucson, AZ
St. George Museum, Landscape Without Restriction, St. George, UT
Phippen Museum, Prescott, AZ
Javelinas de Tubac Project, Tubac, AZ
Pima College Visual Arts Gallery, Cross Pollination, Tucson, AZ
Tubac Center of the Arts, Annual Juried Exhibit, Tubac, AZ
Davis Dominguez Gallery, Small Works Annual Exhibit, Tucson, AZ
2018
Davis Dominguez Gallery, Small Works Annual Exhibit, Tucson, AZ
Tubac Center of the Arts, Annual Juried Exhibit, Tubac, AZ
2017
Davis Dominguez Gallery, Small Works Annual Exhibit, Tucson, AZ
2016
Davis Dominguez Gallery, Small Works Annual Exhibit, Tucson, AZ
2015
Mountain Oyster Club, Annual Exhibit, Tucson, AZ
Davis Dominguez Gallery, Small Works Annual Exhibit, Tucson, AZ
2014
Mountain Oyster Club, Annual Exhibit, Tucson, AZ
Davis Dominguez Gallery, Small Works Annual Exhibit, Tucson, AZ
2013
Mountain Oyster Club, Annual Exhibit, Tucson, AZ
Davis Dominguez Gallery, Small Works Annual Exhibit, Tucson, AZ
2012
Mountain Oyster Club, Annual Exhibit, Tucson, AZ
Davis Dominguez Gallery, Small Works Annual Exhibit, Tucson, AZ
Wilde-Meyer Gallery, Tucson, AZ
2011
Mountain Oyster Club, Annual Exhibit, Tucson, AZ
Davis Dominguez Gallery, Small Works Annual Exhibit, Tucson, AZ
Monsoon, Invitational, Tucson, AZ
Wilde-Meyer Gallery, Scottsdale, AZ
2007
Mountain Oyster Club, Annual Exhibit, Tucson, AZ
Davis Dominguez Gallery, Small Works Annual Exhibit, Tucson, AZ
Wilde-Meyer Gallery, Annual Exhibition, Tucson, AZ
Cochise College Exhibit, Sierra Vista, AZ
Tohono Chul Museum, Music to my Eyes: Musical Instruments as Art Tohono Chul, Tucson, AZ
2006
Davis Dominguez Gallery, Small Works Annual Exhibit, Tucson, AZ
Tohono Chul Museum, Visions of the Land, Tucson, AZ
Deertrees Cultural Center, Two Artists, Harrison, Maine
Wilde-Meyer Gallery, Annual Exhibition, Tucson, AZ
2004
Tucson Museum of Art, Poetic Vistas, Tucson, AZ
Wilde-Meyer Gallery, Annual Exhibition, Tucson, AZ
2003
Ponies del Pueblo Project, Tucson, AZ
Phippen Museum, The Grand Canyon Invitational, Prescott, AZ
Tohono Chul Musuem, Border Saints Invitational, Tucson, AZ
Wilde-Meyer Gallery, Annual Exhibition, Tucson, AZ
2002
Tohono Chul Museum, Invitational, Tucson, AZ
Phippen Museum, Prescott, AZ
Tucson Museum of Art, Tucson, AZ
Wilde-Meyer Gallery, Annual Exhibition, Tucson, AZ
2001
Phippen Museum, Prescott, AZ
Los Caballeros Museum, Wickenburg, AZ
Sky Harbor Art Program, Phoenix, AZ
Wilde-Meyer Gallery, Annual Exhibition, Tucson, AZ
2000
Tubac Center for the Arts, Annual Juried Exhibit, Tubac, AZ
Wilde-Meyer Gallery, Annual Exhibition, Tucson, AZ
Tucson Museum of Art, Tucson, AZ
1999
Wilde-Meyer Gallery, Annual Exhibition, Tucson, AZ
Karin Newby Gallery, Annual Exhibition, Tubac, AZ
1998
University of Tampa Gallery, Juried NLAPW, Tampa, Florida
Martin and Roll Gallery, Colorado
Karin Newby Gallery, Annual Exhibition, Tubac, AZ
Wilde-Meyer Gallery, Annual Exhibition, Tucson, AZ
Tucson Museum of Art, Tucson, AZ
1997
Tubac Center for the Arts, 25th Anniversary Invitational, Tubac, AZ
Karin Newby Gallery, Annual Exhibition, Tubac, AZ
Wilde-Meyer Gallery, Annual Exhibition, Tucson, AZ
Tucson Museum of Art, Tucson, AZ
1996
Karin Newby Gallery, Annual Exhibition, Tubac, AZ
Wilde-Meyer Gallery, Annual Exhibition, Tucson, AZ
1989-1995
Karin Newby Gallery, Annual Exhibition, Tubac, AZ
1986
Data Museum, Ein Hud, Israel
1982
Scarf Gallery, Santa Fe, NM
1980
Winter Gallery, Tucson, AZ
1979
Winter Gallery, Tucson, AZ
1978
OIA Arte Fiera International, Italy
1977
Henry Hicks Gallery, Brooklyn, New York
1975
Brooklyn Museum, Juried Exhibit, Brooklyn, New York
Selected Publications:
Tucson Lifestyle Home & Garden, April 2009
"The Colors of Joy" by Duncan Tweedy
Tucson Home Magazine, Spring 2007
3 Of A Kind, A trio of Tucson Painters
LTP Calendar Year of Grace, 2006
Tucson Lifestyle Home & Garden, Fall 2002
"Barbara Gurwitz: Artist" by Margaret Falk
Santa Fe Poetry Broadside, Issue 27, June 2002
American Art Review, Volume XIII, Number 1, 2001
"A Century of Arizona Women Artists," Carolyn C. Robbins
Who's Who of American Women,…in the west,…in America
Casting Into a Cloud, By Elizabeth S Lamb Haiku Poetry with illustrations
by Barbara Gurwitz
Winter Lightning: A Collection of Poems by Roy Bryan, cover by Barbara Gurwitz
Covers for Frogpond, Magazine of the American Haiku Society
Artist, USA, 7th Edition
American Artist of Renown
Selected Collections:
National Museum of Women in the Arts, Washington, D.C.
Tucson Museum of Art, Tucson, AZ
Haiku Museum, Tokyo, Japan
Data Museum, Ein Hud, Israel
Goldman Sachs & Co., NYC
Phippen Museum, Prescott, Arizona
St. George Museum, Utah
Banner Foundation, Cancer Center
Tucson Medical Center, Healing Arts Program